Sounds of the International Airport Restrooms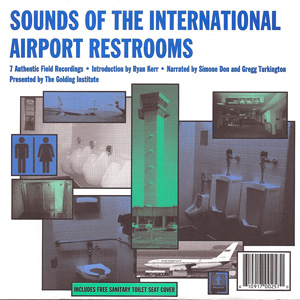 (PPR-025 | 1998) Sounds of the International Airport Restrooms was the final release from Planet Pimp and I suspect it was a pretty limited run. Or at least it didn't get the distribution that past records got. Rarely have I seen it up on eBay and there are scant Web references to it. These days the place to find a copy is on Discogs.com where I recently bought my copy for $40 bucks. For the longest time the only images of the release I could find were blurry, compressed shots from a defunct web store. However, a super-excellent reader and proud owner of Sounds of the International Airport Restrooms was kind enough to send me a whole bunch of great scans which I have linked below (including the Esperanto transcription and toilet seat cover).
Sadly, I do not own this record. Please be kind enough to give or sell me your copies! Seriously. If you are willing to part with your precious copy, please send me an email and we'll work something out.So, as I mentioned earlier, I finally just gritted my teeth and ponied up the money to buy a copy of this rare release. Unfortunately the copy I bought was missing the Esparanto translation sheet and had a little damage on the sleeve, but I really was only interested in what was on the record itself.
The record is on par with previous Golding Institute releases. Each field recording is introduced with a brief history/overview of the country in which the recording was made and a little touch of cultural commentary. The sounds are exactly what they should be: water running, airport announcements and, of course, toilets flushing. As an added bonus, a few of the recordings from Asian airports include the distinct sounds of spitting. All-in-all a wonderful installment in the "Sounds Of" series. Very informative.
Track Listing
Side One
Introduction
Kimp International Airport, Seoul, South Korea
Ngurah Rai Airport, Denpasar, Bali, Indonesia
Side Two
Changi International Airport, Singapore
Los Angelese International Airport, Los Angeles, California, USA
Auckland Int'l Airport, Auckland, New Zealand
Brisbane Int'l Airport, Brisbane, Austrailia