Like a fine wine, this page takes time... to load. Be Patient.
My goodness, if you haven't heard the incredible music that has been released on Planet Pimp you are definitely not living life to its fullest! Run by Sven-Erik Geddes, Planet Pimp seems to be devoted to releasing slightly politically incorrect and/or trashy records. There's some hilarious pokes at queercore (via the Highlander II's 7" and the Car Thieves), straight-edge, and other all-too-serious aspects of underground music. If you would like a free print catalog from Planet Pimp, email your request directly to Sven-Erik at ****. If you have comments about this site don't send them to Mr. Geddes, send them to me, Robert Gomez.Also you can check out Katatonic Records (formerly Neurotic), which carries a lot of Planet Pimp's stuff and has pictures and descriptions of P.P. records on their home page.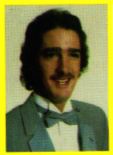 Sven-Erik Geddes
President Planet Pimp Records

Let us begin our survey of Planet Pimp Records with a run down of some of P.P.'s releases. The majority of Planet Pimp Records' releases have been in the form of 45s. The first singles were packaged with simple black and white photocopy packages. This doesn't include the original release of Larry Winther and His Mummies at the Pony Express Pizza Parlour. This single originally had the black and white cover with a color photo (glued on to the cover) of the flashing women on the cover. It has since been released with the same photo in black and white. This single was my first exposure to Planet Pimp . Audience banter and noise seems to prevail over the music in this recording. The one song has band members yelling at audience members to get off their equipment.

This single was preceded by Fuck You Spaceman! which is a five song tribute to Star Trek(tm) including: Slug Dick Nick, The Mummies, Three Stoned Men, The Phantom Surfers, and Alicia Rose. The songs are all quite hilarious. One of my favorite lines is from the 3 Stoned Men's song Lt. Uhuru: When Abe Lincoln saw you, he could not resist. He smiled and called you a charming negress.The back of the single contains some great reworking of Sunday comics. The single was later released with a color cover. Planet Pimp 's long standing policy of having artists include photos of topless women with their demos is stated on the back of these singles (not to be confused with the Armed Forces "Don't ask don't tell" policy).

Next we have The Lone Surfer and His Super Pals which is a surf super-group comprised of Michael Lucas [Phantom Surfers], Elka Zolot, Tina "Boom Boom" Lucchesi [Both from the Trashwomen], and (i believe) Russell Quan [Mummies]. This recording is along the line of the Larry Withers & the Mummies single in that audience banter triumphs over the music. It's mostly Michael Lucas berating a heavy metal guy in the crowd and eventually giving him his money back.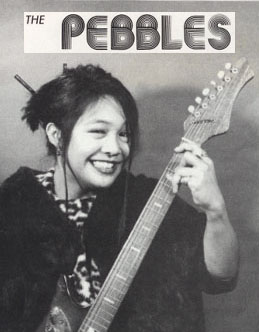 The Pebbles first P.P. single is less intentionally goofy. The music is Japanese, all-girl garage rock. It's pretty light and poppy and has silly lyrics like the mmmm..how much! that's just tacked on the end of "We're Going Shopping". "I Wanna Be Loved by You" is not the old song Betty Boop used to sing. Both songs on this single are a rockin' good tyme. The packaging also features the first instance of Planet Pimp 's logo, "You Know It's Good Because It's Cheap!"
In a similar vein we have The 5.6.7.8.'s. These girls are totally obsessed with 50' & 60's trash culture. The original single has a different cover than the single you see around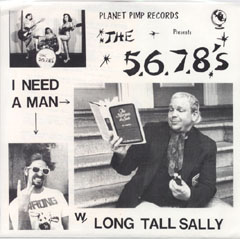 nowadays. This original cover feature the various men that the girls need. The songs are more raw than the stuff on their more recent releases these songs are sort of between their seventeesish sounding punk stuff and their more reverb-y stuff they do now.
Planet Pimp is not just a garage rock label. They also have a world music release. The Highlander ]['s are a Scottish Hillbilly band. The single has two titles: Nursing a Hangover and Cash in on Queer Core. Imagine distorted guitar mixed with folkish fiddle playing and you have a pretty good idea of what the Highlander ]['s sound like. Most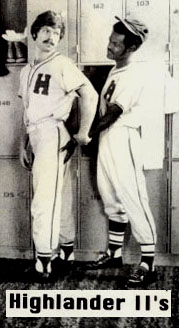 of the songs are traditional numbers and there is one original, "Slacker Girl". This song takes cracks at Gen X.
Planet Pimp Records has also made some ground breaking firsts in the music industry. Discovered by Sven-Erik at his local YMCA gym, The Furious! Fighting! Car Thieves are one of the first gay instrumental surf bands. Their music is both rocking AND empowering! One of the most noteworthy elements of this release is the new Planet Pimp Audio Logo(tm) Techno Dance Remix made especially to appeal to the club hopping community!
Around this time Planet Pimp began to catch its stride (which it has not lost) and release some of it's best records. A fine example of this is Thee Shatners. This LP contains a dozen great surf tunes that are inspired by Star Trek(tm) [not that geeky Next Generation stuff, but full-blooded American Kirk worship!]. Not only do the titles refer to Trek stuff but the songs all contain little snippets of bridge noises, tricorder sounds, and phaser fire. Note: Thee Shatners are actually members of the Hi-Fives, another great band. The LP contains a great mystery track (side 2) which offers a compelling answer to the problem of street vagrancy.
Blood Orgy of the Leather Girls Soundtrack is one of Planet Pimp 's finest releases. The record is a collection of songs from and inspired by Meredith Lucas' movie of the same title. The tracks are interspersed with great audio excerpts from the movie The songs cover a wide variety of styles, there's plenty of garage stuff here (Mummies, Trashwomen), some poppy stuff, some Highlander II stuff, and some spoken word stuff. Slug Dick Nick's "Feed Me.." poetry bit is one of the most quoTABLE sections of the record ("I'm a wet turd humming bird flapping at the crack of your ass!"), and the record is filled with other catch phrases which, which if memorized and rehearsed, will make you the comic hit at your next office party! Oh, the music is quite good too.
These two full lengthers were followed by a string of 7"ers. Including Los Kogars, the best Mexican's the French band. An instro three piece from France but everyone thinks they're from Mexico. There's some great broken English on the cover. Also The Phantom Surfers released their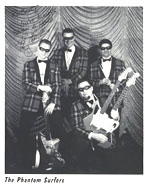 first Planet Pimp 7"er, "Fuck Surf Music". The album is a collection of live on stage banter and the first couple of seconds of a few songs. It also contains an incredible Comfy Jones prank phone call to Dick Dale. Planet Pimp also began to release beautiful full-color covers. The first of which was David Nudelman Lays an Egg. This is David's (of Three Stoned Men) greatest release to date. Not only does the record itself look like a fried egg but the songs are some of the stupidest recorded moments ever. For example, from the song "Too Lazy to Pee", "Go down the hall and pee, and while your at it take a pee for me." Half this stuff is just acoustic Three Stoned Men songs, which, if you haven't heard them yet, are all about pot in one way or another. Between the music are various people giving their opinions of David Nudelman. The record is introduced by Elka Zolot of the Trashwomen.
Planet Pimp's next noTABLE release is Neil Hamburger Bartender the Laugh's On Me!!!!. This is Neil's (America's Funnyman) second single and it showcases Mr. Hamburger in true form. It was recorded live in Modesto, CA and the recording captures the thrills and energy that come from a live Neil Hamburger show. This release features Neil's take on religion, birth, and the O.J. trial. While dodging hecklers, Neil barely fumbles his way through each punchline...but, you see, that's the point. This, and all of Neil's stuff, is anti-humor at its finest.
The 27th amendment (ERA) may not have been passed a decade or so ago, but this hasn't stopped Planet Pimp Records from applying a little Windex(tm) to the glass ceiling. P.P.'s roster of recording artists is filled with girl groups such as the 5.6.7.8's, The Pebbles, who have 2 releases on P.P., and Planet Pimp 's latest all-girl sensation, Sit 'n' Spin. Sit 'n' Spin's first 7"er features art work by Yoshiko Fujii of the 5.6.7.8.'s and features 2 great garage (but not lo-fi) songs.
"This (website) is some whacked, snaked shit. Two twinkies up."

-Kaptain Kornut
Go Nuts

Currently, the hottest band on Planet Pimp Records is The Go-Nuts. The Go-Nuts are the worlds greastest Snack-Rock Superhero and Gorrilla Entertainment revue. Their first P.P. single, The Go-Nut Prince and the Pauper, shows off a revamped and cleaner sounding band than featured on earlier Go-Nuts releases. It contains two versions of "The Fabulous Go-Nuts Theme" and two other snak-rockin' songs. This single boasts a great cover featuring The Donut Prince, in full Go-Nut superhero garb, shaking hands with a demented-looking street person. All the band members all wear superhero costumes to hide their true identities. Although you never see the Go-Nuts and the Phantom Surfers or The Untamed Youth in the same room at once..hmmm.
This single was followed by another compilation LP in the same vein as Blood Orgy of the Leather Girls. The Planet Pimp Records Good Tyme Jhambhoree is a collection of 20 tracks by many Planet Pimp regulars including Los Kogars, Neil Hamburger, Slug Dick Nick, and David Nudelman. David Nudelman does a great version of the Beach Boys(?) VegeTABLEs and the Hi-Fives and Man or Astroman? contribute some good songs too. The two main themes of the album are "Don't do Drugs" and "Recycle". Both these themes a mingled within a the continuing storyline of Molly Stone's grocery store and the food-creatures (Benny Bagleman, Mr. Banana, Henrietta HoTDog...) that live there. You should buy this album if for nothing else than the photos of the lovely D'Lana Tunnel.
Continuing along the theme of fine food we have Sounds of The American Fast Food Restaurants. This is a collection of authentic field recordings in the tradition of Big Sounds of the Drags or Enviroments 4:The English Prairie, only these are recordings of the exciting noises of fast food restaurants. It is narrated by Gregg "Neil Hambuger" Turkington. It includes the vivid sounds of KFC, Taco Bell, Hot Dog on a Stick, and many more. A must for any audiophile.
Next we have Los Kogars Swing into Action. This is the debut full length LP from Planet Pimp's other superhero band. These Frenchys pretending to be Mexicans churn out some cool instro tunes. Los Kogars have an easy-going and minimal sound to their tunes. But don't let that mislead you into thinking they're some silly lounge revival band, no, they're a silly surf revival band!
The Budget Girls Get in Your Ear is a delightful little piece of trash that combines sex, rock 'n' roll, and geek-bashing! The Budget Girls, Teri and Christen, do the screaming and are backed by a traditional three-piece garage band. This 7" has four classic songs that just reek of sexuality, rage, and aggression: Teabaggin', Pop-a-wheele Cop-a-Feelie, French One, and Go Away Geek! Stop spending your time away from computer camp reading that novelization of Star Trek II: The Wrath of Khan and playing Magic: The Gathering, and spend some quality time with The Budget Girls!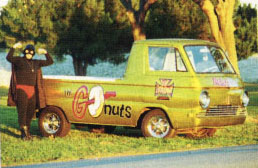 The two most recent releases on Planet Pimp are a couple of full lengthers, one from Sit 'n' Spin and the other from The Go-Nuts! Sit 'n' Spin's Pappy's Corn Squeezin' continues with their brand of garage pop. A number of the songs come off sounding like Shonen Knife (which isn't a bad thing!) only with singing that isn't a half-step flat. I still think Im Sick their best song but there are number of tune on this disc which are just about as good. You can find out a bit more about Sit 'n' Spin by visiting their web page via this link-->Sit 'n' Spin's Web Page. Finally we have the Go-Nuts full-length debut which I guess is either self-titled or called World's Greatest Super Hero Snak Rock and Gorilla Entertainment Revue. This release contains no less than FOUR versions of the fabulous Go-Nuts Theme! It also contains about a dozen more great songs about Snakin' (no, not snake-ing, snacking!), Gorillas, and the world's largest man, Robert Earl Hughes. There are also a bunch of cool drawings by Coop and lots of nice pictures of Snak Rock in action! This terrific album stands as a monument to the greatness of Planet Pimp Records!!!!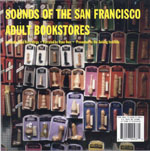 NEW JAN 1998!! The latest in the Sounds of... series of authentic field recordings. This one is entitled Sounds of the San Francisco Adult Bookstores. This time our audio peek into American culture focuses on the taboo subculture of the adult book store. These recordings are narrated by the always diligent Ryan Kerr and underwritten by the internationally recognized Golding Institute. The vinettes are probing, electrifying and at times humorous. They provide us with a much more realistic and honest documentation of the porn industry than any Marky Mark film could ever hope for. Oh, and there's a bunch of dildos and butt plugs on the cover.
TO BE CONTINUED...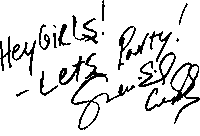 ---
Use the selection box in the lower frame to access more Planet Pimp fun or to return to Robert's homepage. These pages are becoming Javascript intense so make sure you have an up-to-date browser to share in the fun! This site map will guide you if you have a dinosaur browser. If you have any comments or suggestions, or if I've printed some misinformation, send me an email!

DISCLAIMER: All the images and sounds on this page are ©copyright Planet Pimp and the respective individual artists. Please support Planet Pimp by buying all of their releases