The Budget Girls - Get in your Ear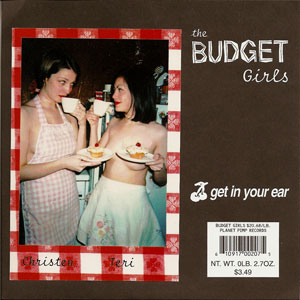 (PPR-20 | 1996) The Budget Girls Get in Your Ear is a delightful little piece of trash that combines sex, rock 'n' roll, and geek-bashing! The Budget Girls, Teri and Christen, do the screaming and are backed by a traditional three-piece garage band. This 7" has four classic songs that just reek of sexuality, rage, and aggression: Teabaggin', Pop-a-wheele Cop-a-Feelie, French One, and Go Away Geek! Stop spending your time away from computer camp reading that novelization of Star Trek II: The Wrath of Khan and playing Magic: The Gathering, and spend some quality time with The Budget Girls!
This is actually a U.S. reissue of their U.K. single on Damaged Goods records. A little deep searching on YouTube turns up this in-store performance at Hyde Park Records in Chicago. The presense of Ratso suggests that this... er... "concert" was for the Chic-a-Go-Go public access music show. In the interviews we find out that, among other things, they are a pair of wholesome Midwestern gals. Also of note, they dedicate one of their songs to local hot dog legend, "Hot" Doug Sohn (who I once had the pleasure of bowling with, though I'd doubt he remembers me).