Fuck You Spaceman!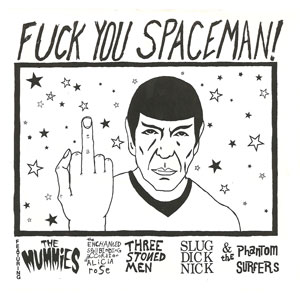 (PPR-001 - 1991) Fuck You Spaceman! is a five song tribute to Star Trek™ including: Slug Dick Nick, The Mummies, Three Stoned Men, The Phantom Surfers, and Alicia Rose. The songs are all quite hilarious. One of my favorite lines is from the 3 Stoned Men's song Lt. Uhuru: "When Abe Lincoln saw you, he could not resist. He smiled and called you a charming negress." The back of the single contains some great reworkings of Sunday comics. The single was later released with a color cover (I never bought the color version, but would be willing to pay... er... top dollar for a copy if you are selling one). Planet Pimp 's long standing policy of having artists include photos of topless women with their demos is stated on the back of these singles (not to be confused with the Armed Forces "Don't ask don't tell" policy).
Track Listing
Side One
The Mummies - (Doin') The Kirk
Side Two
The Phantom Surfers - Klingons vs. DaleksWatch/Listen on YouTube
The Possessed Accordian of Alicia Rose - Themato il Cosmonauto
Thanks to M. Gilliam for the photo of the red text cover and to B. Gwinnett for the color covers.