David Nudelman - David Nudelman Lays an Egg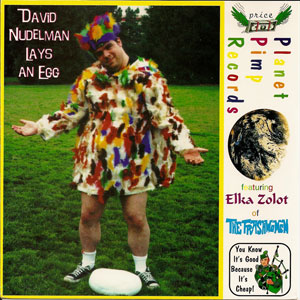 (PPR-010 - 1994) Planet Pimp also began to release beautiful full-color covers. The first of which was David Nudelman Lays an Egg. This is David's (of Three Stoned Men) greatest release to date. Not only does the record itself look like a fried egg but the songs are some of the stupidest recorded moments ever. For example, from the song "Too Lazy to Pee", "Go down the hall and pee, and while your at it take a pee for me." Half this stuff is just acoustic Three Stoned Men songs, which, if you haven't heard them yet, are all about pot in one way or another. Between the music are various people giving their opinions of David Nudelman. The record is introduced by Elka Zolot of the Trashwomen.
These days it seems that David is living in Hawaii and playing lots of ukulele on YouTube. Check out his channel for tons more music. You can also listen to David on Spotify.
Track Listing
Side Two
Stoner Section
Frolic