Highlander II's - Cashing in on Queer Core / Nursing a Hangover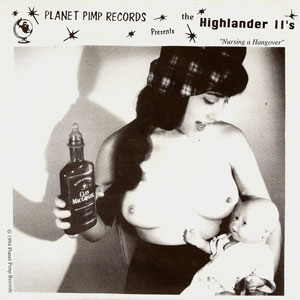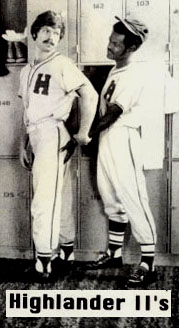 (PP-006 | 1994) Planet Pimp is not just a garage rock label. They also have a world music release. The Highlander ]['s haven been called a Scottish Hillbilly band. What they really are, sonically that is, is an electrified roots-Americana music outfit. Imagine distorted guitar mixed with folkish fiddle playing. Now imagine that recorded on a Tandy handheld mirco-recorder and you have a pretty good idea of what the Highlander ]['s sound like. The Scottish bit comes from the fact that they wear kilts and pay homage to Scotland's greatest cultural export: Highlander 2: The Quickening.
This single has two titles: Nursing a Hangover and Cash in on Queer Core—or, as noted in the 45's insert, the straight side and the queer side. The straight side has a pair of more traditional numbers, while the queer side has one original, "Slacker Girl", which riffs on Gen X, and a punky take on Jimmie Rodgers's Let Me Be Your Side Track.
Michael Lucas and Sven-Erik would eventually continue along similar musical lines in The Poontang Wranglers.