Car Thieves - The Furious! Fighting! Car Thieves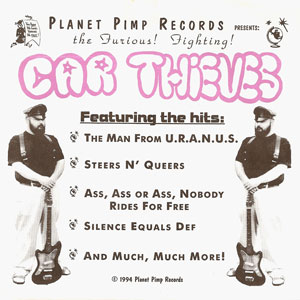 (PPR-007 | 1994) Lest you think Planet Pimp Records were never innovators in their day, P.P. made some ground breaking firsts in the music industry. Discovered by Sven-Erik at his local YMCA gym, The Furious! Fighting! Car Thieves are one of the first gay instrumental surf bands. Their music is both rocking AND empowering! One of the most noteworthy elements of this release is the new Planet Pimp Audio Logo™ Techno Dance Remix made especially to appeal to the club hopping community!
Okay, turns out The Car Thieves were none-too-pleased with the treatment Sven gave their music. The story goes like this: Sven contacted The Car Thieves to make a record. They said, "Sure!" and Planet Pimp can provide the cover art, "Just don't make it too gay." In reaction to this comment, we got this wonderful single. The saga continues in the Goode Tyme Jhambhoree.
* The real song titles are not included on the record. These are just a best guess by me.