5.6.7.8's - I Need a Man b/w Long Tall Sally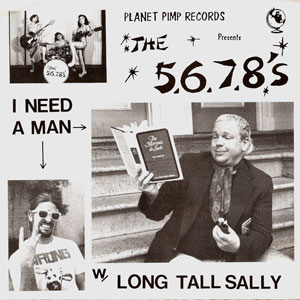 (PPR-005 - 1993) In a similar vein to The Pebbles we have The 5.6.7.8.'s. These girls are totally obsessed with 50' & 60's trash culture. Shown here is the orginal cover. The single was later reissued with a cleaner, some would say, non-Planet Pimp-esque cover (pressed on clear vinyl). The featured the various men that the girls need.
The 5.6.7.8s kinda exploded for a little while after they were featured in Quinton Tarantino's Kill Bill Vol. 1, but they have been around forever. The songs featured here are more raw than the stuff on their later releases (and Vonage ads). They exist somewhere between their Seventees-ish sounding punk stuff and their more reverb-y stuff that they're know for.
Of all the Planet Pimp artists, this is the only one which I got to see live here in the Midwest (well, that's not including Deke Dickerson and Man or Astroman?). As of 2015, The 5.6.7.8s are still around and kicking. Check out Discogs.com for a more detailed catalog of their output.
Bonus Material
A recent Twitter post by Coop featured a photo from a show featuring the 5.6.7.8's, The Go-Nuts and the Highlander II's. We all wish we could have been there.
The was also an excellent gig poster, included on The Go-Nuts page.